About Us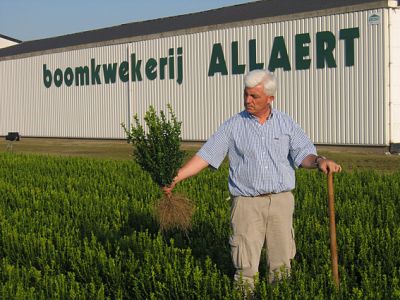 Allaert Nurseries is a leading Belgian bare root nursery specialising in the cultivation of forest and hedging plants, conifers and flowering shrubs, in bare root. Through a combination of tradition, knowledge and precision, we guarantee the absolute highest quality and perfect service.
A deep-rooted tradition
In 1876, Jean Baptiste Allaert began the nursery. More than 150 years later, Allaert Nurseries has developed into a strong family company, being led by the fourth generation.
Boomkwekerij Allaert offers you a powerful experience, passed on from father to son.
Making the world green
For many years, Allaert Nurseries has been a pioneer in the world of green and enjoys a strong international reputation. The plants are produced from seeds or cuttings and are between 1 and 4 years old when delivered. The assortment is expanded with new and different new species, in responding to market demand.
90% of the produce is exported across Europe or even further, destined for plantations, forestation and cultivation.
We strive for the highest quality with a perfect selection, with particular attention paid to the specific demands of the client. You are more than welcome to visit our nursery.
On our website, you will find our catalogue from this season. Contact us for more information.